Commercial Real Estate Owner & Non-Owner Occupied Loans
The lenders at Texas Gulf Bank have decades of experience in commercial real estate lending. We work with developers and real estate investors along the Texas Gulf Coast to support financing or refinancing for construction, purchase, or acquisition.
Our lenders review the past experience of each borrower, check references, and perform site visits on any ongoing projects. We aim to ensure that borrowers have a solid track record of completing jobs on time and on budget. Learn more about the opportunity to apply for a commercial real estate loan through our bank.
Examples of Commercial Real Estate Loans
We offer a variety of commercial real estate loan options for our customers.
Owner-occupied construction loans
Non-owner-occupied construction loans
Ground-up construction loans
Acquisition Financing for both owner-occupied and investment properties
These types of loans allow business owners to borrow money to purchase materials and pay for the labor necessary to complete construction. Often, this money can be used to purchase the land you're building on. However, if you already own the land, you may be able to use the property as collateral for your loan.
Because commercial real estate loans are generally intended to cover the building process, the terms are typically 12 to 18 months. Depending on the type of loan, some loans automatically convert into a mini-permanent mortgage* once construction is complete.
*NOTE: Some creditors may offer one-time-close construction loans that include a permanent mortgage, but Texas Gulf Bank's one-time close construction loans only include a mini-permanent mortgage.
Typical Commercial Real Estate Loan Applicant
We support these types of borrowers that are interested in a commercial real estate loan:
Contractors
Construction companies
Homebuilders
Investors
Owner-Occupied
We look for applicants that have more than five years of experience in the construction industry, have proven knowledge and ability in construction jobs, and have sufficient liquidity to pledge as equity to support the project until there is adequate cash flow for it to be self-sustaining, completed or sold.
Commercial Real Estate Loan Application Requirements
We typically provide loans on a per-project basis. We will want to review the following elements to determine whether to approve your loan application. These include but are not limited to:
A budget for the project.
Three most current filed years of tax returns and financial statements for the company.
Personal tax returns from the past three years.
A current personal financial statement.
Most recent year to date balance sheet and income statement
Plat/survey
Plans including building elevations
It is important for applicants to supply all required documentation at the time of the application. We focus our efforts on structuring the loan package correctly to meet the contracted closing dates. We also work closely with selected third-party providers who provide the appraisals, surveys, and good title.
The most important reminder we share with our customers is to NOT begin any form of construction or delivery of materials prior to loan funding, which can take at least two weeks to complete.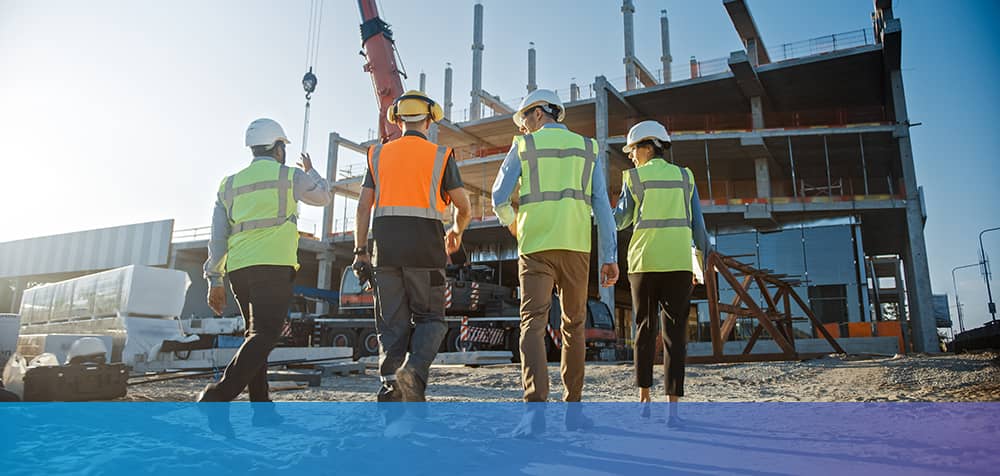 Need a Ground-up Construction Loan?
Ground-up construction loans are unique with specific lending requirements. We work with contractors that are building single-family homes, multi-family projects, and mixed-use projects (e.g. retail centers, office warehouses, and office buildings). We look for the following when a borrower applies for a ground-up construction loan:
Good to excellent credit. To reduce risk, we require borrowers to have a strong credit history.
Enough income to pay off the loan. You should have enough income to cover payments on your current debts and the new construction loan.
Low debt-to-income (DTI) ratio. The lower your DTI, the more cash you theoretically have to make construction loan payments each month.
Down payment of at least 20%. We require borrowers to make a down payment of at least 20% when taking out a commercial construction loan.
Project and construction budget approval. Because of the uncertainties involved in a ground-up construction loan, we will want to see as much detail as possible through drawings, blueprints, and other specifications.
Builder or general contractor (GC) approval. You will need to demonstrate that your architect and builder are qualified, licensed, and insured.
Responsibilities. We will also want to see a description of each party's responsibilities for the project, including the architect, GC, and anyone else involved in the project.
Get Started on a Commercial Real Estate Loan
Texas Gulf Bank typically funds construction draws much faster than other banks. We have helped many contractors successfully secure commercial real estate loans. To learn more about this type of loan we offer, or to speak with a lender, call Texas Gulf Bank at 1-800-467-7216, use the contact form below to email us, or visit one of our many local banking centers.
All loans are subject to credit approval. Your company needs to meet loan-specific qualifications. It is best to have all of the documents and information required to apply collected prior to visiting with one of our bankers.
Contact us today to experience the Texas Gulf Bank difference. We are committed to your growth.
All loans subject to credit approval.