Remote Deposit
Time is money and no one knows this better than a business owner. As the one in charge of everything, each minute wasted is a task that could have been checked off the never-ending list. Our team keeps the plight of business owners at the top of our minds, which is why Texas Gulf Bank, N.A. offers our business clients options like remote deposit capture to deposit payments from their own office or on the go, skipping the line in our lobbies.
Remote Deposit Capture (RDC) and Mobile Deposits enable businesses to deposit paper checks from any location. Simply scan a properly endorsed check or snap a picture of it using the camera feature of your smartphone and upload payments to your company account online. Then put that valuable time saved towards bigger and better things. Read on to see how it works.
In-Office Remote Deposit Capture (see footnotes 1,2,3,4)
Using a check-scanning device like the one below, our Remote Deposit Capture Service enables you to scan checks and transmit the file to the bank for deposit right from your office.
Contact Texas Gulf Bank to request a Remote Deposit Capture application or to receive information on pricing for fee-based services, including the cost of the check scanning devices used in Remote Deposit Capture.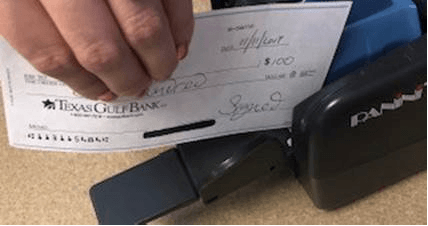 On-the-Go Mobile Deposit (see footnotes 3,4,5,6)
With Texas Gulf Bank's Business Mobile Deposit, you can deposit checks anytime – anywhere from your smartphone. Using our mobile banking app, simply take a picture of the properly endorsed check, select which account to deposit it in and receive immediate confirmation that your check has uploaded successfully. Mobile deposit provides convenient 24/7 access to deposit a check when it's suitable to you.
Remote deposit capture, and mobile deposit are all part of the TGB online suite of banking products. Simply log into the RDC portal and scan check(s) through an RDC scanner or login to your mobile banking app for mobile deposit to capture images of payments. Today's digital and mobile technology simplifies the process of payment collection, deposits, and reconciliation … leaving more time and capital to grow your business. That's digital banking technology designed specifically with business owners in mind!
Call us at 713-595-7461
to learn more and see if you qualify
1.  Either provide your own compatible scanner or purchase a scanner from Texas Gulf Bank.
2.  You must have a Texas Gulf Bank deposit account, be enrolled in Online Banking and Remote Deposit Capture.
3.  Deposits made via Remote Deposit Capture and Mobile Deposit must be made before 5 PM Central Standard Time in order to be considered deposited same day. Deposits made after 5 PM Central Standard Time, or on a non-business day, will be considered deposited the next business day. A business day is Monday through Friday, excluding Federal holidays.
4.  Subject to Loan Officer Approval
5.  Must have a Texas Gulf Bank deposit account and be enrolled in Online Banking, Mobile Banking and Mobile Deposit.
6.  Check your mobile carrier's agreement for any data transfer fees that may apply. 
Note: There are per-check and monthly deposit limits associated with Remote Deposit Capture and Mobile Deposit.