Use Data to Make Informed Business Growth Decisions
November 6, 2016
Using the right data can drastically improve your business decision-making ability, allowing you to focus on improving the return on the changes you implement. Actually knowing exactly which parts of your business are growing, and which aren't, is better than any educated guess you could make. Successful business owners continuously think about how to innovate on what they offer and expand into new markets. Data is the only way to make truly informed decisions on your way to the top.
We know you want to make decisions about product development, staffing, and cash flow as quickly as possible. In reality, accuracy matters more. Sales data, marketing analytics, and revenue projections can both help you make informed decisions as well as support your business intuition. One example, using data can help you determine the best time to invest in new equipment and whether investing the extra cash will pay off when weighed against the increased work output.
Exactly which datasets you need at your fingertips depends on what kind of business you're running, but here are a few examples that typically help most business owners:
Sales and profitability data provides a look at which products sell best as well as the sales fluctuations that inevitably happen each season. This can help you understand what to stock on the shelves in the next quarter.
Do you know how your customers find and buy from you? Collect customer data to track buying behavior, loyalty, sales volume, and repeat sales. Consider running a test on which of your sales methods work the best. For instance, do you sell more online than in-store?
Market trend data can be found by reading up on what's happening in your industry to better position yourself as a leader. Look up current research and industry whitepapers, then filter and choose which data sets you want to focus on to help with the specific growth decisions you face.
Your website analytics is possibly your most powerful data tracking tool. You can monitor website visitors as they grow from being viewers to customers of your brand. Google Analytics™ is considered by many to be a top-performing analytics tool to collect information about your website. Learn More about using analytics HERE
Social media data can also help you understand your target audience (the people most likely to consume your brand). Facebook™ and LinkedIn™ analytics can help you determine what messages your customers respond to best, so you will know where to put your resources.
Here's an example of how data-driven decision-making might work using Facebook™ Analytics.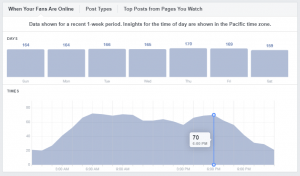 Facebook™ provides a look at the popular days and times when your viewers engage with you online. When it comes time to introduce a new product, you can use this information to send out the big announcement at the exact time that your largest number of fans are online to see it.
Google and Google Analytics™ are registered trademarks of Google LLC,a subsidiary of Alphabet, Inc.
LinkedIn™ is a registered trademark of LinkedIn Corporation
and its affiliates in the United States and/or other countries
Facebook™ is a registered trademark of Facebook, Inc