The Ledger | Second Quarter 2017
3 ways your small business can save on credit card processing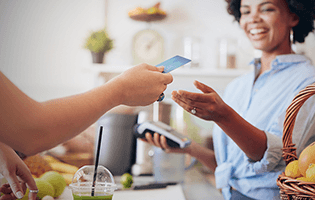 Consumers are increasingly choosing plastic over cash. Declining to accept credit cards as a result of fees may actually cost you more money in the long run than the fees you are trying to avoid. Here are a few tips to help lessen the credit card fee pain your company may be experiencing.
1) Set a minimum spending requirement for purchases made with a credit card
Under the Dodd-Frank Wall Street Reform and Consumer Protection Act, all merchants are legally able to impose a minimum credit card purchase amount requirement up to $10, as long as the minimum is the same for all credit card issuers and PCNs (payment card networks). However, you should note this does not apply to debit cards. Setting a minimum purchase amount may help ensure small credit card purchases don't eat away at your profitability.
Start Your Married Life with Extra Cash
You've said your "I Dos," and while you may be recovering from wedding-related expenses, there are several steps you can take as a couple to ensure you start your new life together with a strong financial base.
Communicate. The first step is to ensure you have actually discussed your finances and how you plan to handle them moving forward as a married couple. Money management can actually be a rewarding way to bond with your loved one if handled properly and openly. Incorporating your spouse's finances can be overwhelming, but if you sit down and assess each account and each bill one at a time you and your spouse can easily get accustomed to healthy financial habits.
Texas Gulf Bank in the Community
2017 marks the 19th year, Texas Gulf Bank and Brian's BBQ have served as Title Sponsors for the *Foundation Challenge Golf Tournament of the Brazosport College Foundation. Proceeds from the tournament benefit students who are in need of general scholarship funds as identified by the college's financial aid department.
Texas Gulf Bank West U Area President, Bob Ittner participated in the *MS 150, a two-day fundraising bike ride organized by the National Multiple Sclerosis Society. This was his 14th year to ride, raising a total of $238,000 for the cause.
Texas Gulf Bank received the *United Way Organization of Brazoria County Bronze Award for employee participation and donations. United Way fights for the health, education, and financial stability of every person in every community.
Texas Gulf Bank provided shredding for the *City of Lake Jackson's Spring Cleanup. Employees Tammy Greenville and Jacque Grissom led the team of volunteers coordinating getting residents' shredding from their car to the shred truck. Residents brought enough shredding to fill the truck completely by the end of the event.
*By clicking on any link included in this material, you will be taken to a website that, unless it is to the Texas Gulf Bank, N.A. site, is not affiliated with Texas Gulf Bank. While we offer this link for your convenience, please be aware that this site does not share our stated Privacy Policy and may not offer the same level of security as we do. In addition, we cannot attest to the accuracy of the information provided in any other website but our own. Texas Gulf Bank does not monitor the content of this site, guarantee the product it offers, or endorse the organization it represents.