Get to Know Our Lenders Featuring Irene Ocañas
April 28, 2023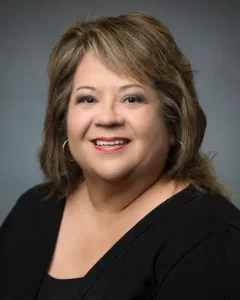 Irene Ocañas
Vice President – Consumer Loan Officer
979.258.7338
Visit Irene at ourFreeport Location
Irene Ocañas is one of the most tenured and knowledgeable lenders at Texas Gulf Bank. As our VP-Consumer Loan Officer, Irene serves as the consumer lender for the entire bank covering Brazoria, Harris, and Galveston counties.
Irene mainly works with individual customers to help identify the right lending option for their needs – whether building a new home, refinancing an existing property, purchasing an investment property, or looking for funding to cover home improvements.
Irene is also an incredible resource for individuals looking to start a small business. She will evaluate new ideas, provide guidance on how to start a new business based on the particular market, and help customers determine whether the timing is right to launch a new venture. She can also identify whether an SBA loan might be a good fit for you to help start the business.
Why You Should Reach Out to Irene Ocañas
Irene has been with Texas Gulf Bank since 1996. Because of her extensive experience in banking, she can quickly determine the best products to offer each customer. You will want to talk to Irene if you are interested in any of these types of consumer loans:
Home purchase
Home construction
Home refinance
Home equity loans
Auto loans
Boat loans
Any other consumer loan you need
Most of the time, Irene works with consumer loan requests from customers in Brazoria County, but she is also available to handle requests from consumers in the Greater Houston area and Galveston county.
For example, you may have a primary residence in the Memorial area of Houston and want to finance the purchase of a second home down at Surfside beach or on one of our scenic rivers. Irene is your go-to resource to handle your real estate loan needs. Plus, if you have eyes on a boat, Irene can also provide you with financing options for a boat loan.
Or, you may be looking to build on a lot that you own. Irene can provide you with construction home loan options, including a one-time close product that is great for individuals who own a parcel of land and are looking to build a custom home.
What Makes Irene an Exceptional Lender
Irene stands out as a banker because she makes herself available to speak with any customer about their loan needs. She will be there for you whether you've banked with us for decades or are a new customer.
Irene returns every voicemail message before she leaves the bank for the day.
She spends time with each customer explaining the financing options available to them.
She will review information and run cost and term scenarios for each customer based on your needs.
During the entire loan process, Irene will be available to answer your questions from application until funding.
Irene also plays an important role in serving as the Community Reinvestment Act (CRA) Officer for the bank. This position allows Irene to work with community organizations that provide services to low-to-moderate-income families and individuals.
Always looking out for the individual consumer, Irene also provides presentations regarding the importance of banking, budgeting, and credit. She is also currently involved as an executive member of the Brazosport LULAC Council 4655, Freeport Historical Commission & Main Street Advisory Board, and a member of the Brazoria County Hispanic Chamber of Commerce.
Irene gives back to the community by using her banking experience to serve as the Finance Committee Chair for St. Mary's Star of the Sea Catholic Church in Freeport, Texas.
We are grateful for Irene's many years of service to our customers. You will benefit from starting a conversation with Irene to discuss your consumer lending needs and small business ideas.
Complete the contact form below to connect with Irene and find expert guidance. You can also get in touch with Irene directly by contacting our Freeport banking center.
All Loans Subject to Credit Approval