Announcing the Groundbreaking for New Brazosport Boulevard Location
May 13, 2021
Texas Gulf Bank is proud to announce the recent groundbreaking for a new building to be the home of our Brazosport Boulevard location in Freeport, Texas. Completion for the branch located at 1400 Brazosport Boulevard is expected by year-end.
A Freeport Banker for more than 37 years and lifelong area resident, Irene Ocañas remains at the helm as Branch Manager and Lender for this location which offers business and personal depository and lending services.
"While the building will be new, the same friendly faces and personalized service customers have come to expect remain the same. As a proud member of the Freeport community, we welcome you to visit our new facility once it is completed. As always, your hometown community bank is here to assist with all your banking needs," said Ocañas.
Equipped with the latest banking technology and equipment to better serve both personal and commercial customers, the new building will have an updated coastal look and feel both inside and out. The branch also includes a multi-lane motor bank for both commercial and personal customers, drive-up ATM and night drop services for customer convenience.
"Building a new branch in Freeport reaffirms our commitment to the businesses and residents of southern Brazoria County," said CEO Jimmy Brown. He continued, "The Freeport location builds upon our continued success in providing hometown personal service backed by substantial lending capacity. This branch will continue to provide financing for area business owners and support for the community."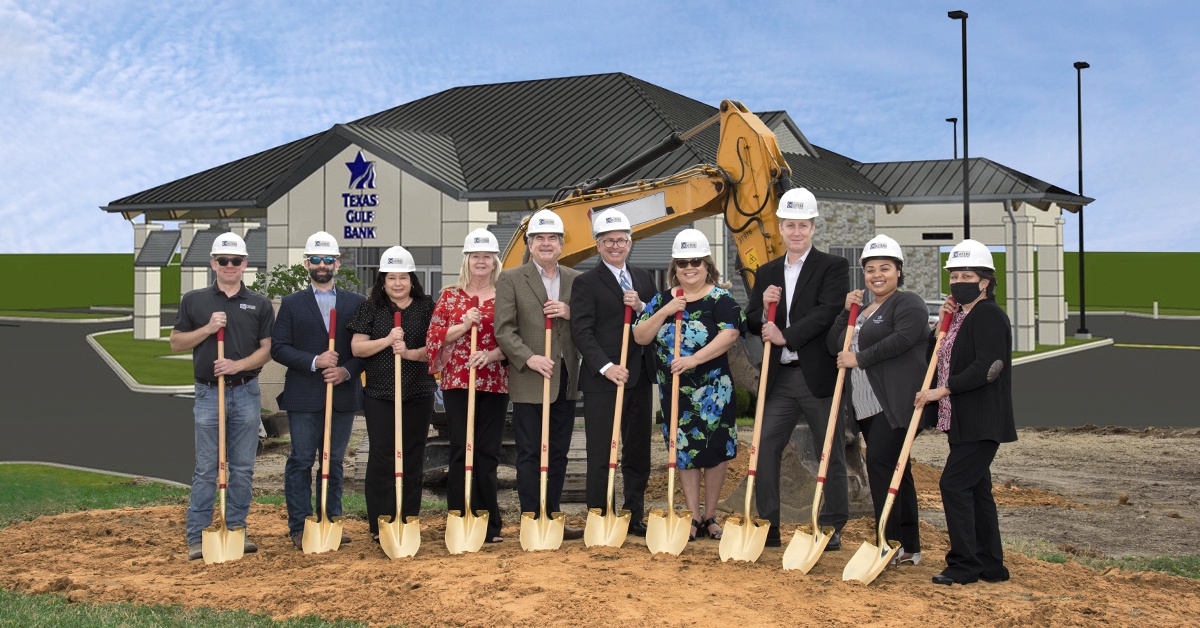 The TGB team in front of a rendering of the new Texas Gulf Bank-Freeport Branch building backdrops the groundbreaking ceremony. From left to right: Alan Thigpen, Construction Masters; Justin Davis, Construction Masters; Lisa Arauz, Texas Gulf Bank; Mary Henson, Chief Operations Officer Texas Gulf Bank; Jimmy Brown, CEO Texas Gulf Bank; Tra Girouard, Texas Gulf Bank Board Member; Irene Ocañas, Brazosport Branch Manager Texas Gulf Bank; Eric Batte, MG Architects; Jalissa Hernandez, Texas Gulf Bank; and Rosalva Mendoza Texas Gulf Bank.
About Texas Gulf Bank
Texas Gulf Bank, Member FDIC, is an independently owned and operated community bank with locations in Brazoria, Galveston and Harris Counties. We offer a full range of personal and business banking services, personal and business loans, cash management services, and *wealth management, as well as a robust suite of electronic banking products. For over 100 years, Texas Gulf Bank has been a strong, stable, and financially secure member of the Texas Gulf Coast community. Texas Gulf Bank is 5-star rated from **Bauer Financial®. Texas Gulf Bank is an Equal Housing Lender.
* Wealth Management Department Investments include non-deposit investment products which are: Not bank deposits; Not FDIC insured; Not insured by any federal government agency; Not guaranteed by the bank; May decrease in value.
** BauerFinancial® is a registered trademark of BauerFinancial, Inc.